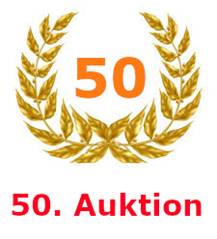 Here you can view the catalogue and register for bidding:

https://www.biddr.com/auctions/mmgmbh/browse?a=3584

Münzen & Medaillen GmbH of Weil am Rhein, Germany, will hold their 50th floor auction on 27th June 2023. There will be coins from Antiquity, the Middle Ages and Early Modern periods as well as a wide range of numismatic books.

Amongst the ancient Greek coins, Sicily is particularly well represented with several outstanding silver coins and many bronze issues of excellent quality. There is a tetradrachmon of Katane in Sicily signed by the diecutter Euainetos, which depicts the goddess of victory, Nike, as she flies over to proffer a wreath to the driver of a quadriga. In the other hand Nike holds a tablet on which the diecutter's signature, " EUAIN," appears. The coin comes from an old Münzen & Medaillen AG Basel sale. Also from Katane is another tetradrachmon, boasting an exceptional provenance- it was part of the collections of Sir Arthur Evans and Robert Jameson, and also comes from an old auction of the Münzen & Medaillen AG, Basel. From Athens there is a particularly well preserved tetradrachmon of the Archaic Period.

The Roman coins are represented with a range of Republican coins, including several imperatorial issues, and a good selection of imperial coins, with a number of very fine gold issues.

There are a number of well-preserved Byzantine solidi on offer, then the sale continues with coins of the Medieval and Modern periods. This includes on the one hand a collection of Bavarian coins containing numerous Goldgulden, ducats, double-ducats, Carolins, Max d'or and Taler, and on the other hand a special collection of coins of the Upper Rhine, Alsace, Rhineland-Palatinate, Speyer, Selz, Hagenau, Strasbourg and Lake Constance regions, including many Medieval pennies.

Among the coins dating from after 1871 there are a number of rarities, for instance 10 and 20 Mark coins from Anhalt, 20 Mark 1872 from Mecklenburg-Schwerin, 20 Mark 1889 from Sachsen-Meiningen; 5 Mark 1932 D Goethe in proof; III. Reich 2 and 5 Mark 1933 Luther in proof; 2 and 5 Mark Hindenberg in proof.

Finally, there will be a sale of numismatic literature, including a complete set of all 29 volumes of the "Catalogue of Greek Coins in the British Museum", all in the original edition.

The auction will take place on Tuesday 27th June 2023 in Gasthaus Krone in Weil am Rhein. It will be available live on www.biddr.com in the internet. In order to bid live over the internet, it is necessary to register online at least two days before the auction. The catalogue will be available four weeks before the auction on www.biddr.com, www.sixbid.com, www.numisbids.com and www.numis24.com. Printed catalogues will be sent to our customers four weeks before the auction. New customers can obtain one for a price of 10 Euros from
Münzen & Medaillen GmbH, Hauptstraße 175a, 79576 Weil am Rhein. Tel. +49 (0) 7621 48560.